The official website for the Digimon Adventure: Last Evolution Kizuna anime film revealed on Tuesday the titles of five animated shorts that are planned for the Digimon Adventure Memorial Story Project, celebrating the 20th anniversary of the Digimon Adventure anime. The shorts include a prequel of the upcoming film and side stories about the daily lives of the Digimon characters and their partners, which are stories that did not make it into the film.
The five shorts include:
Sora e (To Sora or Towards the Sky)
Kokoro no Ana (A Hole in the Heart)
Igakusei Joe Kido (Medical Student Joe Kido)
Akogare no Jogress Shinka (The Desired Jogress Evolution)
A secret title
A Booster crowdfunding page opened for the Digimon AdventureMemorial Story Project. The campaign launches on Thursday and will run until October 2. The campaign's goal is 10 million yen (about US$94,000). Backer rewards include a Blu-ray Disc with the five animated shorts, which is scheduled to ship to backers in October. There will be no general sales for backer rewards, and the campaign is limited to residents in Japan. The LB Pop-Up Theater at Shibuya PARCO in Japan will also show the shorts as a purchaser benefit in late November. In addition, the first episode is planned to stream online. The campaign's page states that if the goal is not reached, the Memorial Story Project will still be carried out in some form.
The Digimon Adventure: Last Evolution Kizuna anime film will open in Japan on February 21, 2020. Toei teases the film as "Taichi and Agumon's final adventure." The taglines on the teaser visual below read, "We will always be together," and, "We walk together with Digimon, toward all the 'children.'"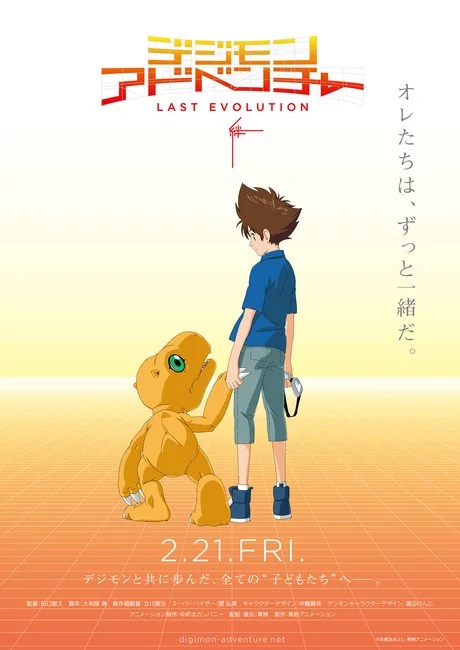 Tomohisa Taguchi (four-part Persona 3 the Movie film series, Kino's Journey – The Beautiful World, Twin Star Exorcists) is directing the film at Yumeta Company. Akatsuki Yamatoya (Digimon Adventure, Digimon Frontier, Digimon: Data Squad) is writing the screenplay, and Seiji Tachikawa (Kino's Journey – The Beautiful World, Blue Spring Ride) is the chief animation director. Toei Animation is credited for production.
Hiromi Seki, Toei Animation's original producer for the Digimon anime projects, is serving as the supervisor of the new film project. Katsuyoshi Nakatsuru is also returning from the first Digimon anime projects as the new film project's character designer. Kenji Watanabe is designing the Digimon monsters for the new project, as he has done for the previous Digimon projects.
The new film project is part of the overall 20th anniversary celebration of the franchise.