The Asahi Shimbun is reporting that the 39th Doraemon's film's South Korean premiere is delayed indefinitely due to the ongoing battle over trade agreements between Japan and its Asian neighbor.
Eiga Doraemon no Nobita no Getsumen Tansaki topped box offices in Japan and was the first movie in the current film series to stay at #1 for six straight weeks, earning over $40.7 million. The film's potential popularity wasn't enough to circumvent the current social climate and theaters in South Korea are declining to show the film for the time being. A similar decision affected the Eiga Oshiri Tantei: Curry Naru Jiken film last month with lower than projected ticket sales and activists turning to message boards to deter theatergoers from viewing Japanese-produced films.
Butt Detective film ranking at #5 in South Korea for the July 12–14 week with $640,708 earned on 561 screens. The following week the film was dropped to 203 screens and came in at #10 with an -81.3% drop in overall ticket earnings.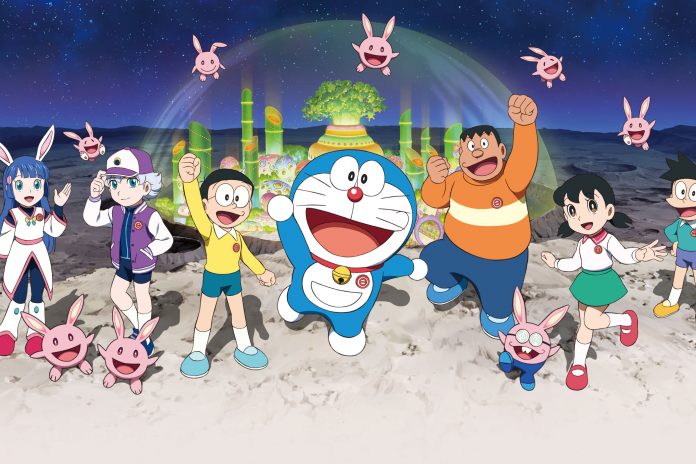 The boycott did not initially put a dent in Detective Conan: The Fist of Blue Sapphire's opening on July 24. The film's opening ticket sales were comparable to last year's Detective Conan: Zero the Enforcer and it opened at #7 at the box office with $1.1 million earned in its first week. However, ticket sales dropped off dramatically in its second week with The Korean Film Council's box office site showing a drop from 576 to just 80 screens in its second week and dropping in the ranking to #10.
Japan placed export restrictions on chemicals, chemicals essential to the South Korean's tech business, on July 1. These restrictions included a new license application requirement for exporters that could take up to three months to process. Japan is also considering removing its Asian neighbor from its "white list" of countries thus jeopardizing South Korea's previous preferential trade agreements.
The trade war was sparked by Japan's accusations that South Korea's lack of oversight of hydrogen fluoride–sometimes used for weapon's development– led to North Korea obtaining the chemical. South Korea denied these allegations. Some have interpreted the accusation as retaliation to a recent Korean court ruling that Mitsubishi Heavy Industries must pay compensation for Koreans forced into labor for the company during World War II.
South Korea's boycott of Japanese products has included fashion retailer UNIQLO, tourism, cars, and convenience stores.