Anime!Anime! ran a survey asking otaku about their number one anime film of any genre that premiered in the first half of 2018. The results saw ties aplenty as usual, but let's see which movies made the top 10!
10. Mobile Suit Gundam THE ORIGIN: Rise of the Red Comet
9. Love, Chunibyo & Other Delusions the Movie: Take on Me
8. Crayon Shin-chan: Burst Serving! Kung Fu Boys ~Ramen Rebellion~
7. Doraemon the Movie: Nobita's Treasure Island
6. Code Geass: Lelouch of the Rebellion: The Imperial Path
5. Liz and the Blue Bird
4. Maquia: When the Promised Flower Blooms
It was no surprise to see everyone's favorite robot cat reach the top 10, having ventured to a treasure island this year with Nobita and the rest of the crew. Fans were also glad to see Lelouch and Suzaku back in their third compilation film for season 2. Meanwhile, Okada Mari's Maquia: When the Promised Flower Blooms stood strong as the only completely original anime film of the bunch. Which movies managed to beat out the competition to reach the top 3?
---
3. Bungou Stray Dogs: Dead Apple

Managing to escape the ties for third place was the film adaptation of Bungou Stray Dogs! The story follows Nakajima Atsushi and the rest of the Armed Detective Agency, who take on a new case that involves a string of suicides and a mysterious mist. Much like the anime, the film boasts gorgeous animation and intense battle scenes, along with a deeper look into the psychological states of those with special abilities.
---
2. Detective Conan: Zero the Enforcer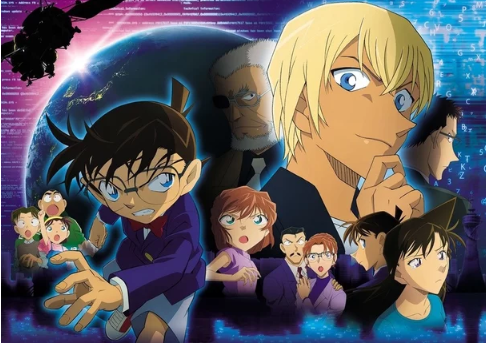 Though Zero the Enforcer marks the twenty-second film for Detective Conan, fans are clearly still out in full force because it snagged second place here! As a sequel to the 2016 film Detective Conan: The Darkest Nightmare, it centers around Conan's attempts to chase down the truth behind a series of untimely terrorist attacks in Tokyo.
---
1. Macross Delta the Movie: Passionate Walkure